View cart
"Majacraft Kit – Wild Flyer" has been added to your cart.
Majacraft Flyer Hook – Jumbo 24mm
Canadian shipping only. Price per single hook.
Jumbo/Wild flyer hook, 24mm diameter loops. The size supplied with the Wild Flyer Kit. Kind of handy for novelty yarn spinners even on a regular flyer.
PRODUCT of NEW ZEALAND
1 in stock
Related products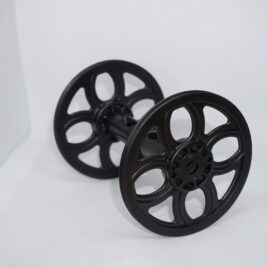 Majacraft Bobbin, Plastic – Standard
Canadian shipping only. Majacraft's newly upgraded standard bobbin is made from molded plastic, :specially chosen to minimize the sound made by the tension string in the bobbin groove as well as to decrease the weight. The original tan-coloured plastic bobbins are no longer available. Launched in late 2020 In their words: "Cutouts in the end plates decrease the weight plus allow you to observe your yarn on the bobbin when spinning. Because ABS is a slightly softer plastic, we did not want them to wear out quicker so have managed to integrate some high quality and very durable polymer bearings inside the bobbin. They are tricky to see but we promise you they are there! We have also added drive pin holes so the plastic bobbins will now work on the Aura." PRODUCT of NEW ZEALAND
$

30.00
Read more