View cart
"Handcards, Ashford – 108 PPSI" has been added to your cart.
Doffer Brush – Louet – Pre-order only
PRE-ORDER ONLY. Please allow 3 to 4 weeks for delivery. Available quantities show to allow our shopping cart to accept orders and do not reflect our on-hand inventory.
The Louet Doffer Brush is a handy tool used to clean drum carder drums between uses. This tool is included with all new Louet Carders and certainly works fine for other brands of carders.
PRODUCT of HOLLAND
9 in stock
Related products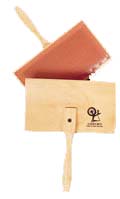 Handcards, Ashford – 72 PPSI
Canadian orders only.
Price per set of two cards. All-purpose handcards that will handle the majority of fibres. For very fine fibres such as Alpaca or cotton, we recommend the other Ashford carders with 108 ppsi.
Made of solid unfinished Silver Beech hardwood with a comfortable turned handle to fit the hand. The carding cloth is durable stainless steel wire teeth set at 72 points per square inch (ppsi), held by a red rubber backing. Carding head measures 8" by 5". The paddles have a nice curve to them, which makes for more comfortable and efficient carding. Minor assembly required, basically laying a strip of white glue and screwing on the two handles. Easily finished with a coat of urethane or varnish, if desired.
Handcards are used for preparing fibre for spinning or felting. Many spinners use these to prepare washed fleece into puffy rolags. Excellent for blending together different kinds and/or colours of fibre as well. When carding fleece it's good to do this over top of a drop sheet since lots of loose vegetation may fall out during the process, depending on the fibre.
PRODUCT of NEW ZEALAND
$

85.00
Add to cart