View cart
"Reed, Ashford Katie Loom – 16 DPI" has been added to your cart.
Reed, Ashford Katie Loom – 10 DPI
Canadian Shipping only. CUSTOM ORDER PRODUCT: please allow 7 to 10 days for delivery.
10 DPI stainless steel reed for the 31cm/12″ Ashford Katie table loom.
PRODUCT of NEW ZEALAND
10 in stock
Related products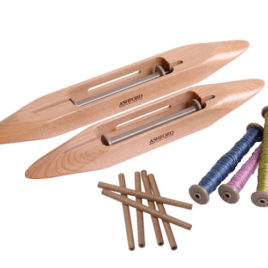 Ashford Boat Shuttle – 11.5″/29cm
Beautifully shaped and well balanced, this is the smaller of the two sizes available from Ashford, the lower one in the photo. Made from Silver Beech hardwood. Lacquered finish. Includes one nylon boat shuttle bobbin. Additional bobbins are available in 10-packs.
NOTE: The nylon bobbins for Ashford boat shuttles will fit only Ashford brand boat shuttles, so far as we know. They will not fit Leclerc, Louet, Schacht, etc.
PRODUCT of NEW ZEALAND
$

75.50
Add to cart