Yak, Cream (Top)
100% Yak.
Fine combed top, very clean. Staple length about 1 inch, in a creamy-white tone.
Yak is a tricky fibre to spin by itself, because it's so short. It makes up for this by being super soft and warm. Consider blending with a fine wool, such as Merino. We can't seem to find information about the felting properties. Micron count approximately 21. White Yak is not a naturally-occuring colour, and is made from brown that has been depigmented.
PRODUCT of CHINA
Related products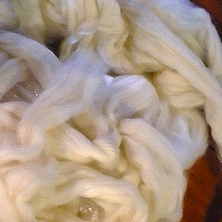 Sock Blend – Superwash BFL/Nylon Top
80% Superwash Blue-faced Leicester wool / 20% Nylon Not suitable for wet felting!! Very clean combed top. Staple length around 5 to 6 inches. BFL is not as soft as Merino, but has excellent durability in a sock yarn. Spin Off Magazine did a whole sock issue a couple of years ago and BFL was the winner so far as the best choice for spinning your own sock yarn. We have the mill custom-blend this for us, to save you from having to do the tedious job of combining wool and nylon together in a thorough way. This dyes up beautifully, either before or after spinning. The ovory-white colour is also real nice just as it comes. Would also be a good choice for kid's clothing. PRODUCT of CANADA, made from imported fibre.
$

5.50 –

$

42.45
Select options