View cart
"Nylon Reed – 5dpi for 12″ Ashford Knitters Loom – Pre-order only" has been added to your cart.
Warp Stick Ties, Ashford Rigid Heddle & Knitters Loom
Canadian orders only.
Two sets of 6 warp stick ties, a total of 12 ties. For any size of Ashford Rigid Heddle or Knitters Loom. Connect the front and back warp sticks to the rollers with the warp stick ties.
PRODUCT of NEW ZEALAND
4 in stock
Related products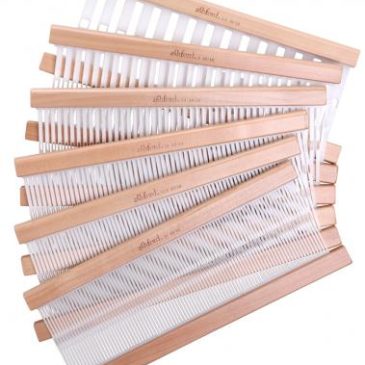 Nylon Reed – 15dpi for 20″ Ashford Knitters Loom – Pre-order only
PRE-ORDER ONLY. Please allow 7 to 10 days before we ship. Inventory quantity exists so that our cart will accept orders and does not reflect our on-hand supply. Canadian orders only. 15dpi reed for the 50cm (20") Ashford Knitters Loom. Reeds are available for differing yarns. The 5, 7.5 and 10 dpi (20, 30 and 40/10cm) reeds feature the wide eye for novelty yarns. The extra fine 12.5dpi(50/10cm) reed is also available. Made from strong, durable nylon with Silver Beech rails. PRODUCT of NEW ZEALAND
$

43.75
Add to cart