Reed, Ashford Rigid Heddle Loom 16″/40cm – 2.5 DPI – PRE-ORDER only
Canadian Shipping only. PRE-ORDER ONLY, please allow 7 to 10 days for delivery. We do not usually have this in stock at our store.
2.5 DPI nylon reed for the 16″/40cm Ashford Rigid Heddle Loom and 16″/40cm Sample It Loom. Made from strong, durable nylon with Silver Beech rails.
PRODUCT of NEW ZEALAND
8 in stock
Related products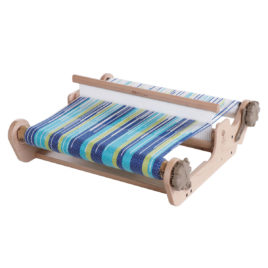 Ashford SampleIt Loom – 16″/40cm
FREE SHIPPING within Canada! Canadian orders only. We have this item shipped directly from the Ashford Canada warehouse, generally within one or two business days. We also usually stock this at our store.
The larger 16" (40cm) version of the Ashford SampleIt Loom.
This is a loom for new and experienced weavers. The perfect classroom loom. Whether you are learning to weave for the first time, want to learn new techniques or sample your wonderful yarns, this loom is fun and easy to use. Just add yarn!
The loom is made from beautiful solid natural Silver Beech timber and has strong handles, ratchets and clicker pawls so your warp never unwinds unintentionally. It has a built in second heddle kit.
Accessories available include various sizes of reeds including the newer Vari-dent reed, and a loom stand.
INCLUDES:
- 7.5 DPI reed (suitable for DK to Worsted weight yarns)
- 2 stick shuttles
- double-ended nylon threading hook
- warping peg and clamps
- built-in second heddle kit
- 30-page revised colour step by step weaving booklet
WEAVING WIDTH: 16" (40cm)
PRODUCT of NEW ZEALAND
$

244.00
Add to cart