Sorry, this product cannot be purchased.
Majacraft Flyer Hook – Fine 6mm
Canadian shipping only. Price per single hook.
Fine flyer hook, 6mm diameter loops.
PRODUCT of NEW ZEALAND
Related products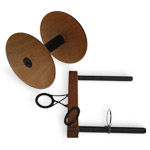 Majacraft Kit – Wild Flyer
Canadian shipping only.
Price per complete kit.
The Wild Flyer Kit includes Majacraft's innovative Wild Flyer and a Jumbo wooden bobbin. Bulky novelty yarns tend to fill up the standard bobbins very quickly, so this kit lets you spin longer yarns. The Wild Flyer with its very large ceramic orifices lets almost any diameter of yarn and crazy add-ins slide right through.
NOTE: LITTLE GEM WHEELS require the special Little Gem Mini Tension Knob with any of Majacraft's wide flyers, including the Aura, Plying or Wild flyers. That's because the standard tension knob sticks out too far and gets in the way of the wider flyer arms. It's listed here below the various flyers and flyer kits. We usually keep it in stock.
PRODUCT of NEW ZEALAND
$

172.00
Read more