Cross/Warp Sticks, Ashford Table Loom – 12″/30cm
Canadian Shipping only. A CUSTOM ORDER PRODUCT: please allow 7 to 10 days for delivery.
For the 12″/30cm Ashford Katie Table Loom. Additional cross sticks with holes for warping.
PRODUCT of NEW ZEALAND
10 in stock
Related products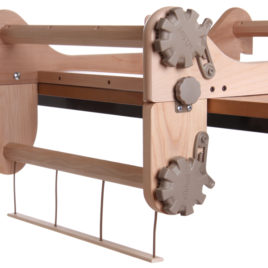 Freedom Roller, Ashford Rigid Heddle Loom – 48″/120cm
FREE SHIPPING within Canada! Canadian orders only. We have this item shipped directly from the Ashford Canada warehouse, generally within one or two business days. We do not usually stock this at our store.
Freedom Roller kit for the Ashford 48"/120cm Rigid Heddle Loom.
NOTE: the Freedom Roller is designed for table top weaving, it will not work with the loom stand.
PRODUCT of NEW ZEALAND
$

144.00
Add to cart