Unfortunately, we need to temporarily close the online shop for health reasons. We are unable to ship orders at the moment. Sorry! We will return in a few weeks.
The Fibre Garden : Rose
Showing all 5 results
Rose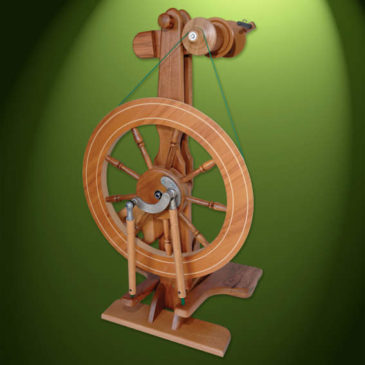 Majacraft Rose Spinning Wheel – currently PRE-ORDER only
April 26/23 - currently out of stock. PRE-ORDER only.
Canadian shipping only. Generally IN STOCK, we try to have a Rose assembled here in our store, and another available for shipping. FREE SHIPPING in Canada, by Expedited Ground post.
Price includes the wheel, four standard plastic bobbins, normal and fast whorl, two different flyers and the Rose Carrier (holds 3 bobbins and can be used as a travel Lazy Kate, also stores the spare whorl and allen key). The Rose is a classic wheel for every spinner. With its spoked wheel and engraved rose motif, it is elegant with a traditional feel. Some of the features of the Rose are: - double treadle - quick change flyer - sealed bearings, so no oiling required - sliding flyer hook - the Rose uses the dependable scotch tension for smooth and easy spinning - New Zealand Rimu hardwood construction - includes the Rose Carrier which can be used as a 3-bobbin lazy kate. The carrier has rubber feet, a convenient carry handle, whorl holding pin and a magnet to store the whorl allen key - has a normal (Rose) and fast whorl (Little Gem), two flyers: The Majacraft Standard Delta, and the Fine Fibre Orifice with ceramic insert for smooth takeup - ratios extend from 4.25 to 19.5 using the whorls supplied - the handle folds to allow easy handling - the handle and head position are adjustable so you can achieve the most comfortable spinning position - suits both left and right handed spinners - compatible bobbins and flyers with Majacraft wheels & accessories Please click this link for the
Majacraft wheel ratios
DROP SHIPPING:
for Canadian destinations not serviced by Canada Post Expedited GROUND shipping, it may be possible for us to have the wheel shipped from New Zealand at the price listed here. Please inquire. PRODUCT of NEW ZEALAND
$

1,870.00
Read more