The Fibre Garden : lazy kate
Showing all 3 results
lazy kate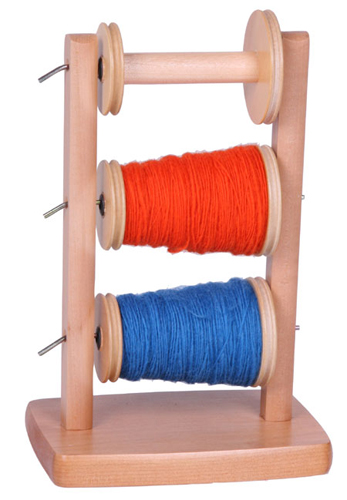 Ashford Lazy Kate – Upright
Canadian Shipping only. Upright design, holds three standard bobbins. NOT TENSIONED. Made from unfinished Silver Beech hardwood. We personally prefer a tensioned Lazy Kate but this one is good value for those on a tight budget. It will do the job. PRODUCT of NEW ZEALAND
$

46.00
Add to cart
Ashford Tensioned Lazy Kate
Canadian Shipping only.
Formerly called the Competition Lazy Kate. A tensioned Lazy Kate: no more bobbin overwind! Suitable for single and double drive standard, sliding hook flyer and jumbo bobbins. Control your bobbins when plying with the adjustable brake tension. Smooth stainless steel yarn guide to prevent your yarn from tangling. Bobbins are quick and easy to change. Convenient carry handle. Four rubber feet prevent slipping or tipping. Stainless steel bobbin pins are removable for storage and transport. Made from beautiful Silver Beech hardwood with a rich lacquer finish. Holds up to three bobbins at once, so suitable for 2 or 3-ply yarns.
This Lazy-Kate also happens to fit some other brands of bobbins, notably Majacraft standard and jumbo. Louet bobbins do not fit.
PRODUCT of NEW ZEALAND
$

96.00
Add to cart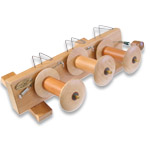 Majacraft Tensioned Lazy Kate – Overdrive bobbin
Canadian shipping only.
A CUSTOM ORDER product. Please allow 4 to 6 weeks for delivery. The "available quantity" exists so that our cart will accept orders, and does not reflect our actual onhand inventory.
DROP SHIPPING INCLUDED: this product can be sent anywhere in Canada at the price noted above because it will ship directly to you from New Zealand. Pickup orders at our shop are the same price.
The Overdrive tensioned Lazy Kate is the same size as the Unviersal lazy kate. However, it holds two of the huge Overdrive bobbins. Another unique feature of the Overdrive Lazy Kate is the use of sliding flyer hooks as yarn guides, this lets you move the guides in the optimum position for easy drawing of the yarn during plying.
PLEASE NOTE: the Standard and Jumbo and other bobbins will not fit this Lazy Kate, it is designed specifically for the Overdrive bobbins.
PRODUCT of NEW ZEALAND
$

208.00
Add to cart