The Fibre Garden : flyer kit
Showing all 3 results
flyer kit
Majacraft Kit – Lace
Canadian shipping only. Price per complete kit. The Lace Kit includes two wood lace bobbins, a Lace Flyer with low-friction and hard-wearing ceramic inserts and a fast pulley. The lace bobbins have a "fat" core that reduces the tension on the yarn as you spin. The lace E-Flyer and E-Hook have hard-wearing ceramic inserts. The ceramic has a very low friction coefficient so the spun yarn glides effortlessly through the guides. The fast whorl will help you spin finer yarns with ease. All of the new Majacraft bobbins and flyers will work on all of their wheels, including the Aura. PRODUCT of NEW ZEALAND
$

225.50
Add to cart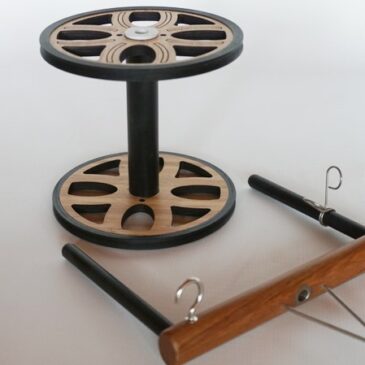 Majacraft Kit – Plying with Wooden Bobbin
Canadian shipping only. Price per complete kit with WOODEN bobbin.. The Plying Kit is made up of a plying flyer and a wooden Jumbo bobbin. The plying flyer has an easy to thread delta orifice that is very simple to use. The wood Jumbo)bobbins have a large capacity and will hold up to two standard bobbins of singles yarn. NOTE: LITTLE GEM WHEELS require the special Little Gem Mini Tension Knob with any of Majacraft's wide flyers, including the Aura, Plying or Wild flyers. That's because the standard tension knob sticks out too far and gets in the way of the wider flyer arms. It's listed here below the various flyers and flyer kits. We usually keep it in stock. PRODUCT of NEW ZEALAND
$

136.00
Add to cart
Majacraft Kit – Stylus 2 bobbin
Canadian shipping only.
The Stylus Kit includes the stylus (long pokey metal thing that Sleeping Beauty pricked her finger on) and two special wooden baby stylus bobbins. This kit is for high-speed spinning, particularly for those exploring the world of cotton spinning.
Majacraft says: "The major benefit of a Stylus is that it allows you to put a lot of twist into a yarn so it's particularly suited to lace-weight yarns. The outcome of this huge amount of twist means that it is possible to spin a lot of yarn much more quickly than with a traditional flyer. The stylus will work perfectly well immediately on your wheel but to really take advantage of the features, we recommend using a fast whorl or alternatively a high speed head."
PRODUCT of NEW ZEALAND
$

150.50
Add to cart