The Fibre Garden : books
Showing all 2 results
books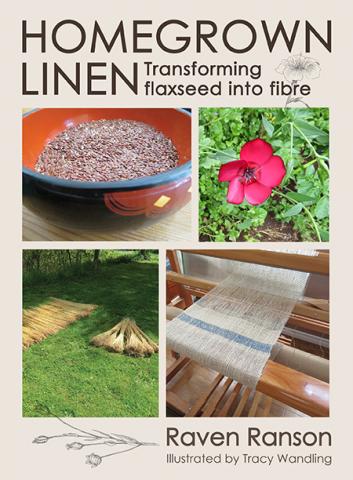 Homegrown Linen: Transforming Flaxseed into Fibre
NEW March 2019
Homegrown Linen: Transforming Flaxseed into Fibre
A wonderful new reference on flax and linen, by a Canadian author!
An illustrated guide to growing linen yarn sustainably at home. Reclaim the traditional skill of growing flax, extracting the fibres, and preparing them for spinning.
Homegrown linen is both a conceptual and hands-on book about gardening, homesteading, and creating yarn. Appropriate for all levels of experience from the yarn-curious to the master spinner.
Discover:
- how to grow flax for fibre
- how to adapt growing techniques to your conditions using permaculture techniques
- how to create a personalized fibre flax variety
- how to process fibre from straw
- the tools for creating linen
- tips and tricks for working with linen
- other uses for flax
Author: Raven Ranson. Illustrations by Tracy Wandling. Published by Crowing Hen Farm. Softcover, 107 pages. Loads of black-and-white illustrations as well as a section of colour photos.
$

26.50
Add to cart
Indigo Madder & Marigold
Indigo, Madder and Marigold: A Portfolio of Colors from Natural Dyes Before she went on to found Louet North America, Trudy Van Stralen was a very rare thing: a production natural dyer. We are lucky indeed that she took the time to create this book. In our opinion it is a most excellent resource, especially for the many dried types of nature dyes such as Brazilwood, cutch, osage orange, cochineal and madder. She also delves a bit into local plants, most particularly black walnuts. If that weren't enough, the colour plates liberally provided are absolutely THE best around. They explain Trudy's recipes for dyes and percentages in a most inspiring and visual way. No nature dyer should be without this resource. Author: Trudy Van Stralen. Published by Interweave Press. Hardcover, 125 pages.
$

32.50
Read more