The Fibre Garden : Natural Yarns - Fingering weight
Showing all 8 results
Fingering-weight yarns are extremely popular for knitting socks but they have a multitude of other uses. Consider a shawl, gloves, mittens or lovely soft scarf. Some of the interesting new fibres such as bamboo, soy and corn are appearing in fingering weight, by themselves or in blends with wool and other fibres. Generally these make for a relatively fast knit, and there are loads of one-skein projects that make for a minor time commitment. Ideal for knitted gifts. We offer several different bases.
Natural Yarns - Fingering weight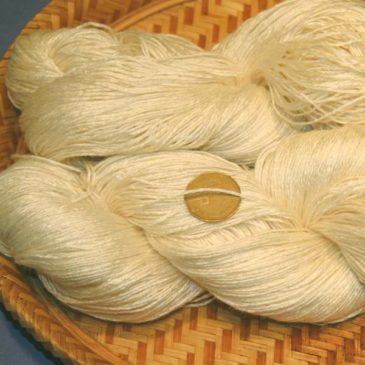 Bamboogie Natural – 1-Lb Value Pack
80% Rayon from Bamboo / 20% Superwash Merino wool. Fingering weight, 4-ply. Approximately 115g (4.06 oz), 431m (472yd). Gauge: 2-3.25mm needles. 6 to 8 stitches = 1 inch, or as pattern requires. Laundering: Handwash cool, hang or dry flat. The same base yarn we use for our Bamboogie™ line. Absolutely fantastic lustre and a beautiful soft hand are the main features of this yarn. It shows stitch definition very well. Nice for warmer weather wear. This yarn is somewhat tricky to dye, because of the two very different fibres. Fibre reactive dyes will work great, but we use acid dyes ourselves. Because the acid dyes only strike on the wool, the final effect is pastel and subtly heathered. When using acid dyes be prepared to do copious amounts of rinsing to get rid of excess dye that lurks but doesn't strike on the bamboo! Dyed colourways of Bamboogie are listed under Yarns > Dyeguy PRODUCT of CANADA Price for 4 skeins, approximately 115g each. A 15% savings on our regular price.
$

49.30
Add to cart