The Fibre Garden : Wheels
Showing all 6 results
It's no secret that we love Majacraft wheels! This was the first Dealership we managed to arrange when we first opened the shop, and one we hope to continue for many years to come. They have top-notch products and give excellent service, responding quickly to problems when they arise. We have demo models here at the shop that we encourage customers to try. Generally we stock a few at any given time, and we're happy to provide a price quote and expected delivery time for any wheels we don't happen to have in stock.
DROP SHIPPING to customers beyond easy driving distance is possible, at no additional charge. Majacraft will ship wheels directly to your address, anywhere in Canada. Simple assembly is required for most wheels that arrive boxed. It takes no more than an hour or two, and most of the tools required are provided. For pickup orders we can assemble the wheel for you, or together with you — we encourage this because then you will have a better understanding of your wheel!
The Majacraft website gives full details on all of their wheels and accessories.
Almost all wheels from the Dealers we carry require some assembly, in order to reduce shipping costs. Clear instructions are provided and in most cases it should take no more than an hour or two, using either tools provided and/or common household screwdrivers and such. It's WAY easier than Ikea!
Because of our Dealer agreement we can accept Canadian orders only for Majacraft products.
Wheels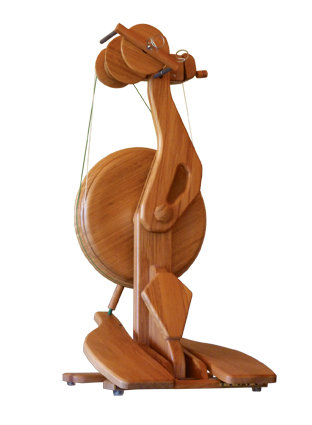 Majacraft Aura Spinning Wheel
Canadian shipping only. Generally IN STOCK, we try to have an Aura in the box and available for shipping. FREE SHIPPING in Canada, by Expedited Ground post.
The "available quantity" exists so that our cart will accept orders, and does not reflect our actual onhand inventory.
Price includes the wheel and three JUMBO wooden bobbins.
The Aura offers a new way of looking at double drives and a new way of looking at spinning. This wheel is a collaboration between Majacraft and the very accomplished spinner Pluckyfluff.
Designed from the ground up, the Aura has new style and presence while still retaining the classic Majacraft look. It has two independent drive bands, one for the flyer and a second for the bobbin. The flyer drive has three different ratios and the bobbin drive has two ratios plus infinite adjustment. Being so unique, the Aura requires new thinking about spinning and expressing your creativity. The potential is huge and when you are ready to explore everything that can be achieved in spinning then come and spend time with an Aura.
The flyer is all new and builds on the advances Majacraft has made in the past. It shares the aerodynamic shape of our other flyers for efficient and easy spinning. Most importantly it has a new dual function orifice. Fine yarns can be held still in the delta part of the orifice. This also has the function of holding coil yarns very still so you can observe your work. You can bypass the delta and use the large halo ring for spinning huge. With the new double drive, the Aura can spin anything that can be pulled through this orifice!
The new folding handle design has the grip in a new location and special bumpers on the handle to keep the spinning head away from the pedals when you fold it down.
As with all other Majacraft wheels, they have worked to make it as compatible as possible with all accessories. The Aura will fit all existing Majacraft flyers. It takes the NEW Jumbo bobbins with two special holes on one end, now standard starting spring 2011 for all Jumbos.
Please click this link for the Majacraft wheel ratios
DROP SHIPPING: for Canadian destinations not serviced by Canada Post Expedited GROUND shipping, it may be possible for us to have the wheel shipped from New Zealand at the price listed here. Please inquire.
PRODUCT of NEW ZEALAND
$

1,975.00
Add to cart