The Fibre Garden : Lendrum Accessories & Spares
Showing all 14 results
Here we list a variety of common Lendrum spares & repairs as well as various accessories and the three types of bobbins. More will be listed as customers request them, and as our inventory grows.
Lendrum Accessories & Spares
Lendrum Bobbin – High Speed
A smaller fatcore bobbin, for use with the Lendrum Fast Flyer or Very Fast Flyer setup. An ideal size for spinning lace-weight yarns. The fat core helps to even out the spinning tension from start to finish.
PRODUCT of CANADA
$

33.00
Add to cart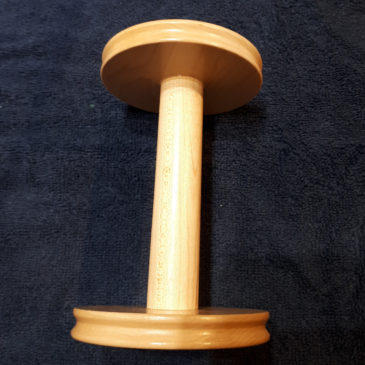 Lendrum Bobbin – Plying
A larger bobbin for use with the Lendrum Plying Flyer. This should easily hold two full bobbins of singles when plied together. Also useful for spinning bulkier singles or for various art yarn techniques. This bobbin WILL NOT FIT on the regular flyer.
PRODUCT of CANADA
$

40.00
Add to cart
Lendrum Drive Band – Regular
This drive band is specifically for the Lendrum Regular Head setup. It is smaller in diameter than the Plying drive band. Clear polycord.
PRODUCT of CANADA
$

15.00
Add to cart
Lendrum Fast Flyer
A fast flyer for spinning shorter fibres, or for lace spinning. Not as fast as the Very Fast Head, but still plenty fast. The Regular Bobbins fit this, as well as the High-Speed Bobbins. 3-speed whorl. Ratios: 12:1, 15:1, 17:1. PRODUCT of CANADA
$

51.00
Add to cart
Lendrum Footman Upgrade Kit
This upgrade kit is only for older Lendrum Single Treadle wheels with a cable connecting the treadle to the drive wheel. Newer wheels do not requite this conversion.
Includes a wooden footman, a gizmo that attaches to the treadle with a rubbery footman connector in between. Basic instructions are provided.
PRODUCT of CANADA
$

25.00
Add to cart
Lendrum Threading Hook
The special hook for pulling fibre through the flyer orifice on Lendrum wheels. Lacquered wood handle with a metal hook. Likely fits many other brands of wheels as well. PRODUCT of CANADA
$

8.50
Add to cart
Lendrum Very Fast Flyer Head
Free ground shipping in Canada by Expedited Parcel Post. Canadian orders only. A super-fast flyer head for spinning short fibres in particular, things like cotton, yak, camel and other things where high speed is essential. Includes the spinning head, flyer, threading hook and high-speed bobbin. The high-speed bobbins fit both this flyer and the regular Fast Flyer. Ratios possible are 26:1, 30:1, 36:1, 44:1 PRODUCT of CANADA
$

238.00
Read more