The Fibre Garden : Kiwi 3 Spinning Wheel
Showing all 4 results
Ashford's most popular and affordable spinning wheel is now better than ever.
Updated in late 2018, the Kiwi 3 now has folding treadles, a veneered MDF drive wheel, three-speed whorl and a wooden threading hook!
PRODUCT of NEW ZEALAND
Kiwi 3 Spinning Wheel
View cart
"Ashford Kiwi 3 Spinning Wheel – Lacquered finish – In stock" has been added to your cart.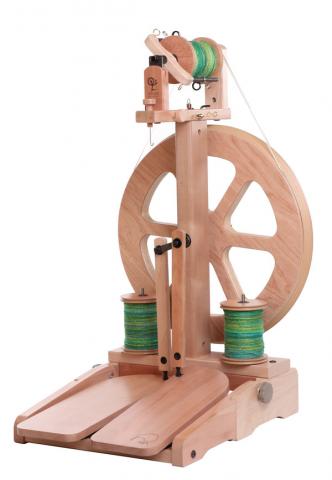 Ashford Kiwi 3 Spinning Wheel – Lacquered finish – In stock
Nov 1/22 - currently back in stock. FREE GROUND SHIPPING within Canada! Canadian orders only. We have this item shipped directly from the Ashford Canada warehouse, generally within one or two business days. We also usually have one assembled at our store for you to try. Ashford did a significant upgrade to the Kiwi wheel in late 2018. The main changes are folding treadles and a 3-speed whorl which provides more spinning ratios and greater flexibility. Although this is Ashford's entry-level wheel, it can do a great many things and is not a wheel spinners are likely to outgrow quickly. For those wanting to spin art yarn or regularly do bulky spinning, the Kiwi Super Flyer is an add-on to consider. It's listed under our Ashford Accessories>Single Drive Flyers category. The Kiwi 3 features include: - folding treadles for convenient transport and storage - drive wheel made from veneered MDF, for a more affordable but still attractive look - ball bearings ensure smooth, silent spinning - 3-speed whorl with 5.5, 7.5 and 9.5:1 flyer ratios - double treadles, mounted on polyurethane hinges, for effortless treadling - sliding hook flyer with frictionless yarn guides and 10mm (3/8-inch) orifice - quick and easy bobbin change with snap-in front flyer bearing - Scotch tension for precise tension adjustment - includes 3 large 130gm (4 to 5oz) capacity bobbins. These are the 90mm Sliding Hook Flyer bobbins - built-in Lazy Kate/bobbin storage pegs - only 5.5kg (12 Lbs) - drive wheel diameter 45cm (17.5 inches) - Silver Beech hardwood construction (other than the drive wheel). Also available in the natural/unfinished version if you wish to apply your own finish This continues to be an excellent beginner wheel due to its easy-to-learn ratios, double treadle and affordable price. The double treadle and ball bearings allow for easy treadling and "hands-free" start. Treadles are hinged to allow a comfortable heel-toe action. The stretchy drive cord does not require any adjustment as you change from one ratio to another and always maintains the correct tension. The Scotch tension allows easy control of the drafting process. The central flyer is convenient for right and left-handed spinners. The wheel is easy and quick to assemble with the Allen key supplied and the robust construction makes this an ideal wheel for individuals, schools and clubs. INCLUDED: built-in Lazy Kate, three 90mm Sliding Hook Flyer bobbins, Threading hook, Learn to Spin booklet. This listing is for the lacquered finish version. We highly recommend the lacquered wheel, as many spinners are so excited to get going that they never get around to putting on a finish coat themselves. Unfinished wheels can get grubby looking fairly quickly, particularly the treadles. PRODUCT of NEW ZEALAND
$

810.00
Add to cart